Derbyshire's beauty spots feature in many eighteenth-century sketchbooks. These books are usually full of views of Matlock Bath, Dovedale and various country houses. They don't often give much insight into the practicalities of the Derbyshire tour – how did they travel, where did they stay and who did they meet?
This information can sometimes be found in the written journals of the Derbyshire tourists. There is one sketchbook at Buxton Museum, attributed to John Ramsay (1768-1845) that also gives a comical insight to the subject.
We know that many visitors to the County would have arrived via stagecoach. When the artist Thomas Sandby (1721-1798) travelled to Derbyshire in 1777, he and his companions fist took a coach from London to Nottingham.* They stopped in St Albans on their way, where they had a rather dismal dinner, 'Here we stayed about half an hour to sup on what was spread on the table against our arrival, none of the best you may be sure, for those who travel in a stage coach are generally look'd upon as nobody and must take up with the leavings of others guests, such was our fare' (British Library, Add MS 42232, fol. 1).
Although Sandby complains about the stagecoach, it did atleast offer some protection from the weather. John Skinner entered Derbyshire from Cheshire via the Cat and Fiddle which he dubs, 'the most dreary road imaginable'. His approach 'was rendered still more unpleasant by the rain and sleet driving with violence in our faces accompanied by so strong a wind we found some difficulty in sitting our horses' (John Skinner, British Library, MS 33640).
Donkeys – the good and the bad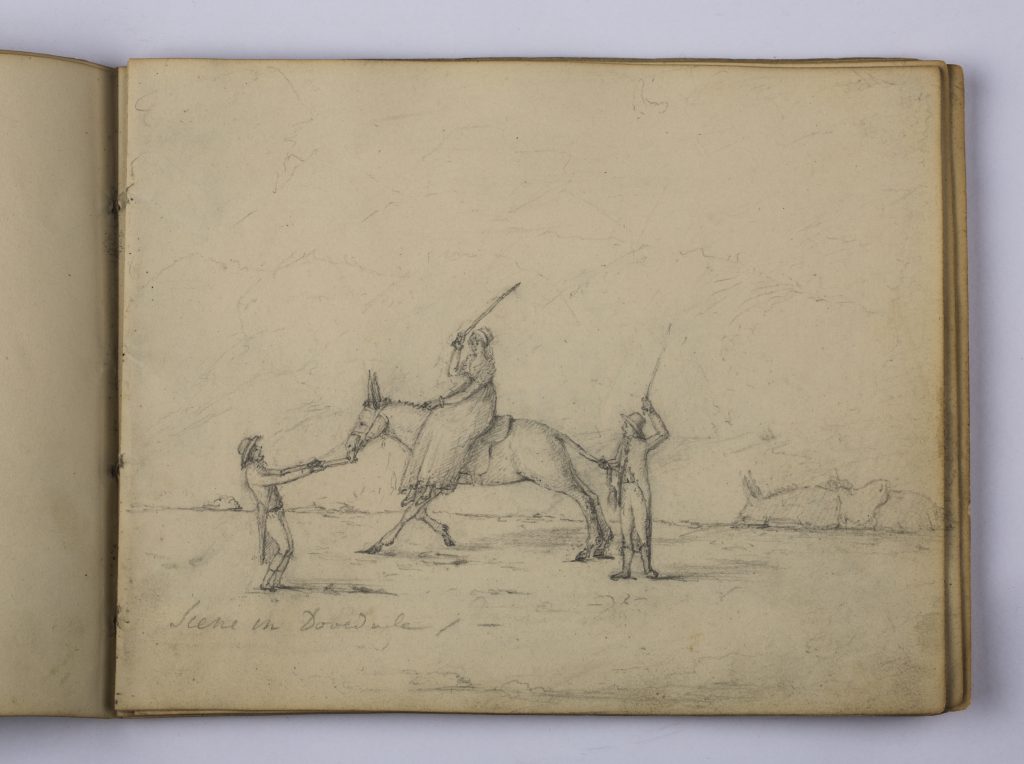 Once in Derbyshire, donkeys could be rented to take tourists to various sites. When an unknown woman visited Matlock Bath in 1807 she hired a donkey and rode to Cromford to admire Richard Arkwright's house. She notes in her diary that the donkey was 'one of the most tractable' she had ever mounted (Journal 1807, Beinecke Library, Osbournd433). Others appeared to have fared less well with their rented steeds – see the image titled 'Scene in Dovedale' in Ramsay's sketchbook above.
*This beautifully illustrated travelogue is embossed on the spine 'Forrest's Tours' however Kim Sloan has identified its author to be Thomas Sandby. See Kim Sloan and P.Joyner, 'A Cozens album in the National Library of Wales', Walpole Society Annual, vol. LVII, 1995, 114